OF TARTS AND GOOSE
Many times I refrained myself from stabbing The Boyf in his sleep. After spending four nights in a hotel room half the size of my own bedroom, I nearly gone loco with some claustrophobic shit. It is an irony that two very tall people had to share one very very very small room and a bathroom room sized just nice like a coffin for an individual. There was hardly any room for romantic shenanigans.  The air-conditioner went on strike nearly every night, waking me up in sweat. I would curse while 'rebooting' the damn a/c.
And of course, The Boyf chose this hotel in Sham Shui Po for more practical reason; he needed to source materials which are mostly in that area. Plus, it's dirt-cheap.
"Isn't it cosy?" he asked.
I wanted to punch his nose in. The room's rather clean ( a saving grace!) and so I managed to skim through the four nights and sang Hallelujah on our last day.
Oh well, despite the heat humidity pollution and hordes of young people having summer vacation and thus over-populating the streets, I had my fair share of enjoyable moments, making a point to visit some quirky places on my list.
Menu at Starbucks Coffee
If you haven't heard of G.O.D. (Goods of Desire), you prolly should now.
 The local brand has explored and re-created retro oriental traditions and updated them with modern way of living. I visited one of the stores in Central and spent over and hour goggling at the cool teapots, pillows and living ware. Anyways, the award-winning founder collaborated with Starbucks and designed a concept outlet based on bing sutt from Hong Kong's colonial days, evoking memories from the 1950s-1970s.
Typically old-school, paper menus are sandwiched under the glass tops while strips of paper with menu items are pasted on the wall and columns in the cafe. A little note plaster on one of the walls reads: Take pictures freely.
Even the tiles are amazingly old-school!
Starbucks
Shop M2, Mezzanine Floor
Baskerville House
13 Duddell Street, Central
Hong Kong Island
Along Hennessy Road, in Causeway Bay, we chanced upon Yee Shun Milk Company. Well, The Boyf and I wanted to visit this dessert place which is highly recommended by my ex-colleague who writes about awesome food for a living
It was mentioned in a Hong Kong-special article that we got to try Yee Shun's steamed milk pudding. We couldn't figure out the address from the map and decided to give up. After much shopping along the streets at Causeway Bay, we spotted the store (coincidentally!) right in front of us!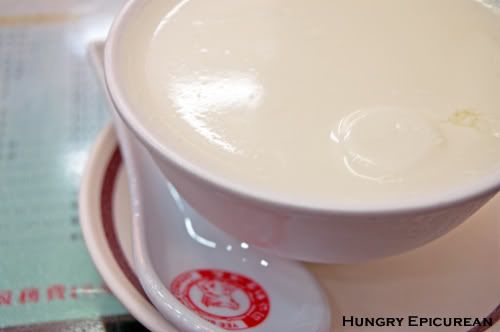 Yee Shun's signature steamed milk pudding (via HungryEpicurean)
After enduring hours of blazing sun out in the streets, I thought I'd be mad to want to have anything steaming hot so I ordered a glass of almond milk with crushed ice. It tasted somewhat like almond milkshake and was FABULOUS! I repeat, FABULOUS!!!! The Boyf wanted something different so he had his bowl of coffee pudding which was a tad too sweet for our liking. Now he regrets not having the steamed milk pudding instead. Hah!
I was just glad to escape the heat in this quaint little cafe. They seem very generous with the a/c; blasting the fan mode to the max. If you only know of Hui Lui Shan Dessert in Hong Kong, you have to jot this address down! Definitely a welcoming place for budget-conscious dessert lovers.
Yee Shun Milk Company 義順牛奶公司
385-391 Hennessy Road, Causeway Bay
Hong Kong Island
Yung Kee Restaurant, highly recommended by the Hong Kong Tourism Board, is The Boyf's fave. He couldn't stop reminding me to list it down as one of our must-go. Roasted goose, the restaurant's award-winning specialty was our main order, plus a few more dishes of dim sum to go along.
Appetizer -  pickled ginger and century with creamy yolks (yums~!)
The silly me couldn't wait to gorge the yummy food, so much so I didn't care to take any pictures. But trust me, the dim sum (approx. SG$4 per plate) was wonderful. No cutbacks on ingredients at all. Though Yung Kee is quite an upscale restaurant, the price range isn't out of this world (think Crystal Jade pricing). The Boyf and I thought the money was rather well-spent considering I even finished the last grain of rice on my plate.
Yung Kee Restaurant
32-40 Wellington Street, Central
Hong Kong
I heard about Tai Cheong Bakery for a long while but haven't had the opportunity to visit this 55 year-old shop during my previous trips to Hong Kong. In 2005, the bakery was forced to close due to increasing rent (110% I heard!!) but it has since found a new home a couple streets away (yeah!)
The store is simply famous for its delicious soft-crust, creamy egg tarts, also well-loved by ex-Hong Kong governer Chris Patten.
I visited the store twice on this trip and twice, I see a queue at its store. Trays of egg tarts are continuously replacing the fast emptying trays. To say that the egg tarts are legendary are quite an understatement. Despite the popularity, the prices of its pastry are never quite expensive. One egg tart costs only HKG$5! (approx. SG$0.87). My fave egg tarts are Tong Heng in Chinatown costs about SG$1.40 (as far as I remember). Hello!! CHEAP LOH!!!
Its Wife's Cakes (Lau Po Bing) are also worth trying. The soft flaky crust and thick winter melon paste strike a lovely balance for those who prefer pastry not overly-indulged with sugar. Me love! So I packed a dozen away to bring home heehee. The century egg pastry is also a must-try.
Tai Cheong Bakery
32 Lyndhurst Terrace, Central
Hong Kong
Hungry fella eyeing the street-side BBQ
All this talk about food is making hungry. Argh.
xoxo,
Gie

Got anything to say? Go ahead and leave a comment!